Give me a Sign
Edit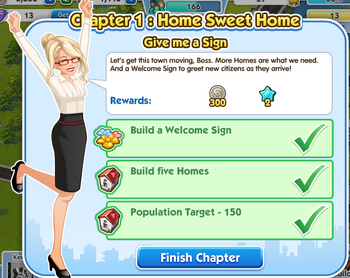 Shake Yer MoneymakerEdit
Greed is GoodEdit
Chop Chop!Edit
Bloom TownEdit
Because You're Worth ItEdit
Country PharaohEdit
Plow PowerEdit
Operation 'I Want My Mummy'Edit
Brand New Old StuffEdit
Mean Talking BluesEdit
Eanie MeanieEdit
Meet Felicity BuckinghamEdit
Fishing for FelicityEdit
Charity Begins at HomeEdit
Green FingersEdit
The Seed is SownEdit
The Greenhouse EffectEdit
Benjamin's BoostersEdit
Neighbours from HellEdit
Making RepairsEdit
That's EntertainmentEdit
Roll Up! Roll Up!Edit
Sky High HomesEdit
Mass MunchiesEdit
The Theme is Fun!Edit
Billy the KidEdit
Billy BoredEdit
Billy BuoyedEdit
A Luxurious LegacyEdit
Foodie BonanzaEdit
Millionaires WantedEdit
Heads Up, Hippie!Edit
Kristy Bites BackEdit
Benjamin Thinks BigEdit
It's Business Time!Edit
Track and YieldEdit
Desert JewelEdit
Ra Roo Don DonEdit
On the UpEdit
My Rod and my StaffEdit
Tasting VictoryEdit
Paradise RegainedEdit
Looking upEdit
Goodbye Cruel WorldEdit
Look AgainEdit
Be PreparedEdit
The End Is Nigh!Edit
Leisurely PursuitEdit
Who's ZooEdit
Animal KingdomEdit
Stampede DreamsEdit
Raccoon Round-UpEdit
Welcome to the Big TimeEdit
Onwards and UpwardsEdit
Be a Good SportEdit
Smile for the BirdieEdit
The Cutting EdgeEdit
See full details.
Two Heads are Better than OneEdit
Chips with EverythingEdit
Reach for the SkiesEdit
Countdown to Blast OffEdit
Ballistic BungleEdit
Kristy Cracks the WhipEdit
See full details.
New ArrivalEdit
Going ViralEdit
Fighting BackEdit
A Shot in the ArmEdit
See full details .
The Man from the Big HouseEdit
Paving the Way for PowerEdit
Landmark SpeechEdit
We the UndersignedEdit
Bring on the Flaming Hoop!Edit
Community content is available under
CC-BY-SA
unless otherwise noted.